Shaheed Foundation Pakistan celebrates Birth anniversary of Hazrat Fatima Zahra (s.a.)
By the infinite blessings of Hazrat Zahraa Salaamullaah Alaihaa, Shaheed Foundation Pakistan's young team, held a soulful spiritual program of Ladies Milad to celebrate the birth anniversary of Dukhtar-e-Rasool-e-Khuda SAWW, the Leader of Ladies of all times Hazrat Fatima Zahraa Salaamullaah Alaihaa in line with it's tradition to utilize the occasion and highlight it as international women's day. The program was attended by almost all the available Shohada families [ladies] belonging to Karachi region, where the program was managed at al-Mohsin Hall in Federal B Area.Ladies and female children belonging to Shohada families honoured the occasion to pay homage to Sayyida-e-Kaunain Salaamullaah Alaiha, may our lives be Her ransom.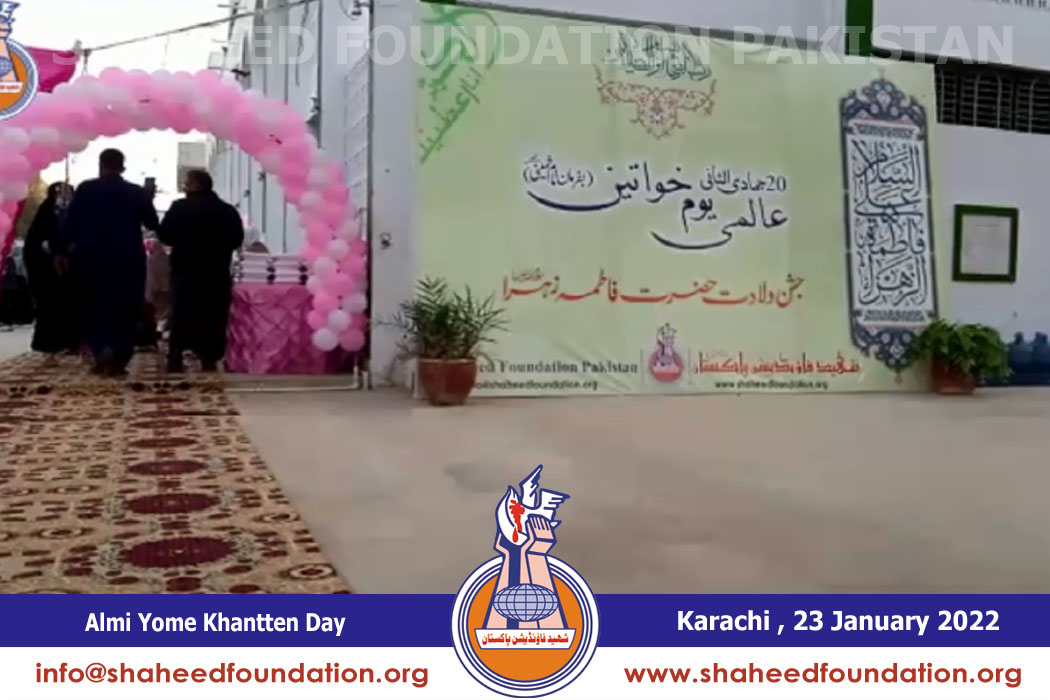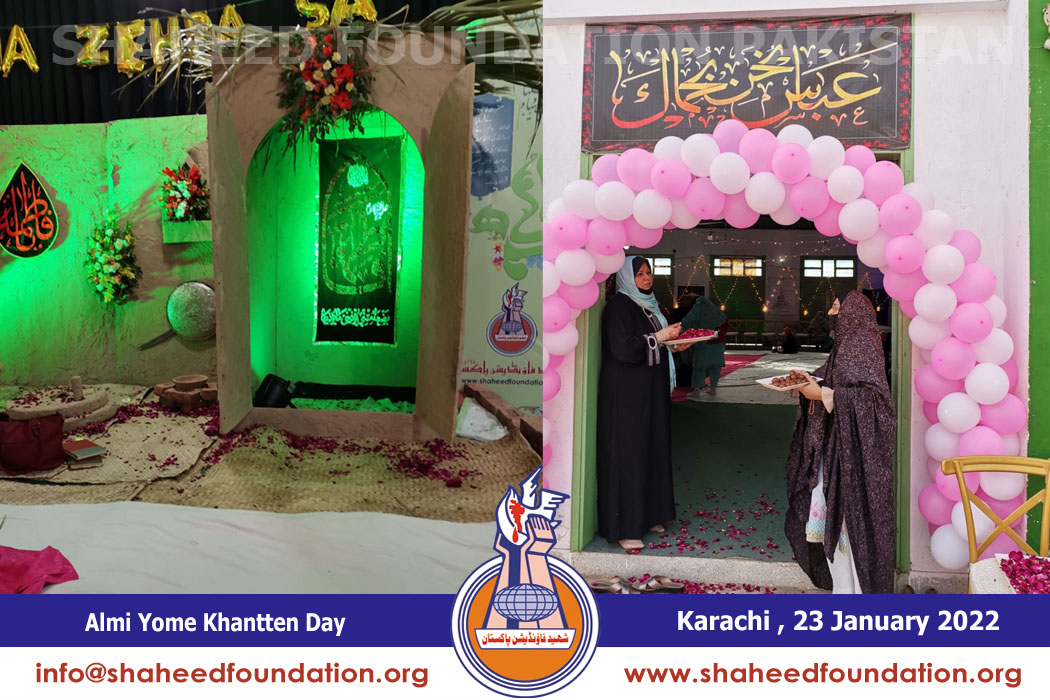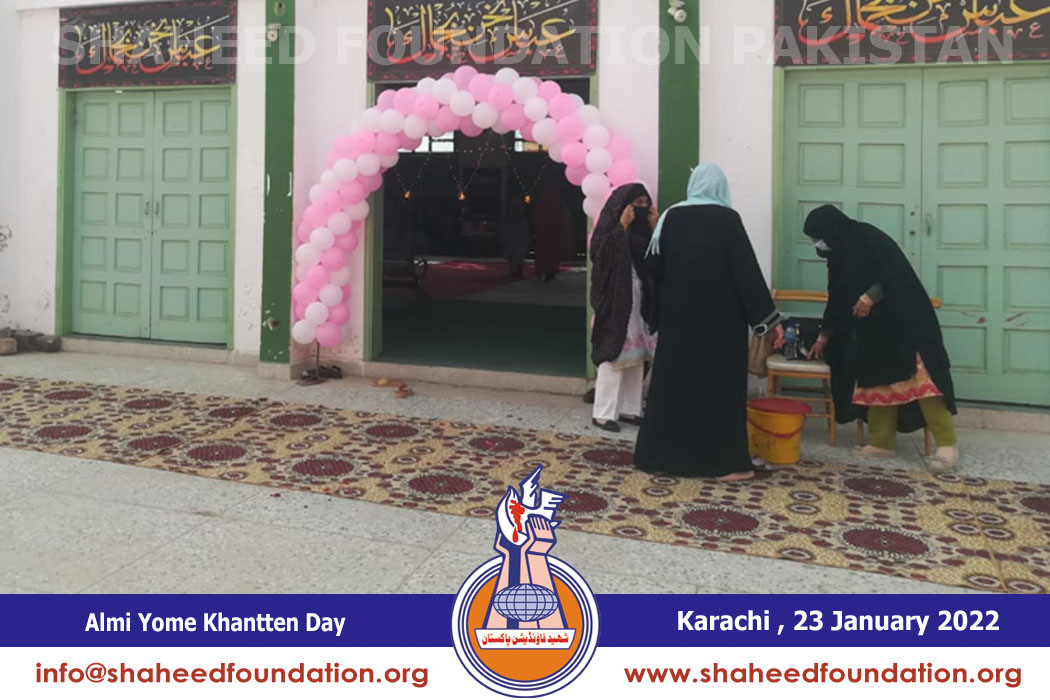 The program commenced with the recitation of verses from the Holy Quran. Female children and ladies presented manqabats and Qaseedas for expressing their spiritual connection with the refuge and sanctuary of all faithful of all times, the Umme-Abiha, Laylat-ul-Qadr, the manifestation of isma-e-azam of Almighty Allah, Bibi Fatima Zahraa Salaamullaah Alaiha.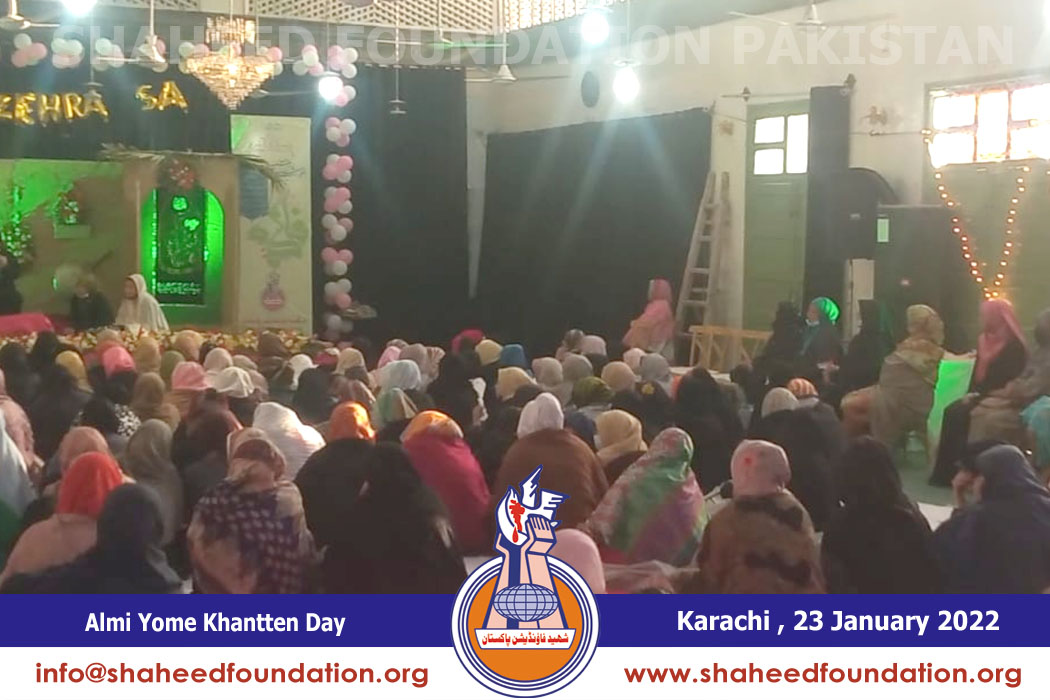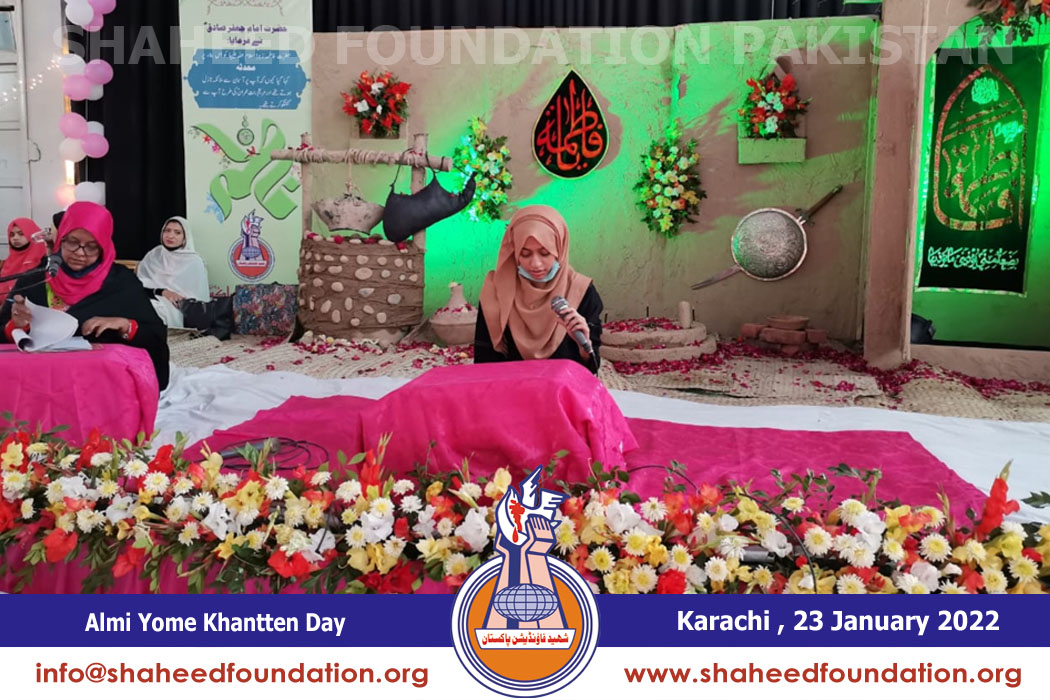 Khanom Sajida Shakiry addressed the audience as keynote speaker drawing attention of the faithful to the seerat of Lady of Heavens and Earths.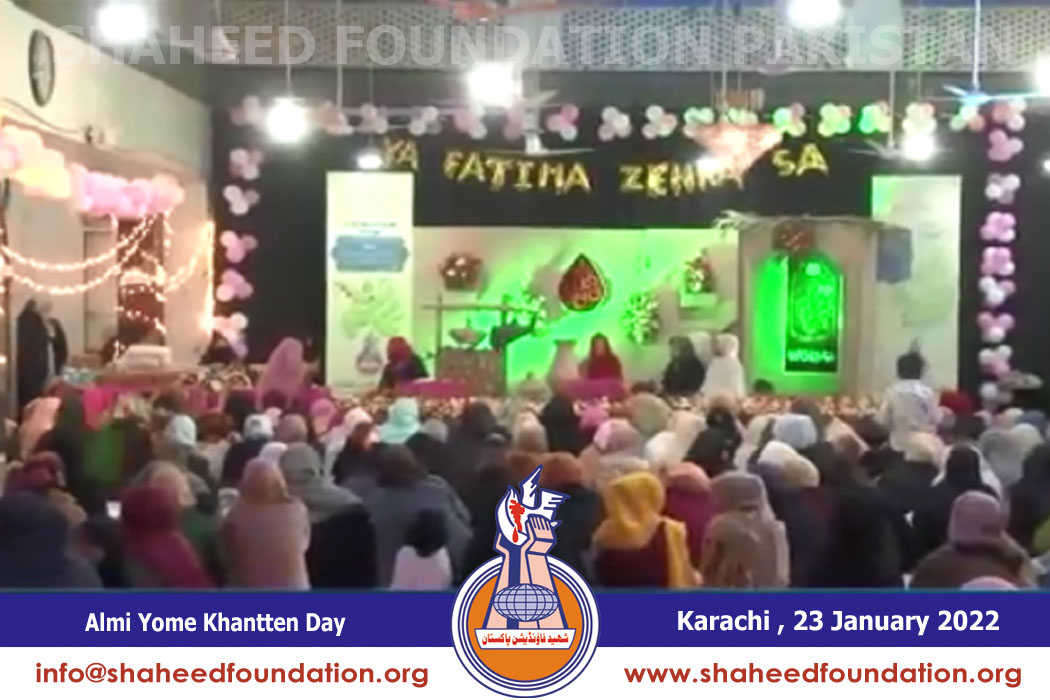 Team SFP also organized a small Drawing and Quiz competition among female children for allowing them space to learn more about the personality of Bibi Zahraa Salaamullaah Alaihaa as well as to express their deep-rooted reverence for Islamic ideals through the use of canvas.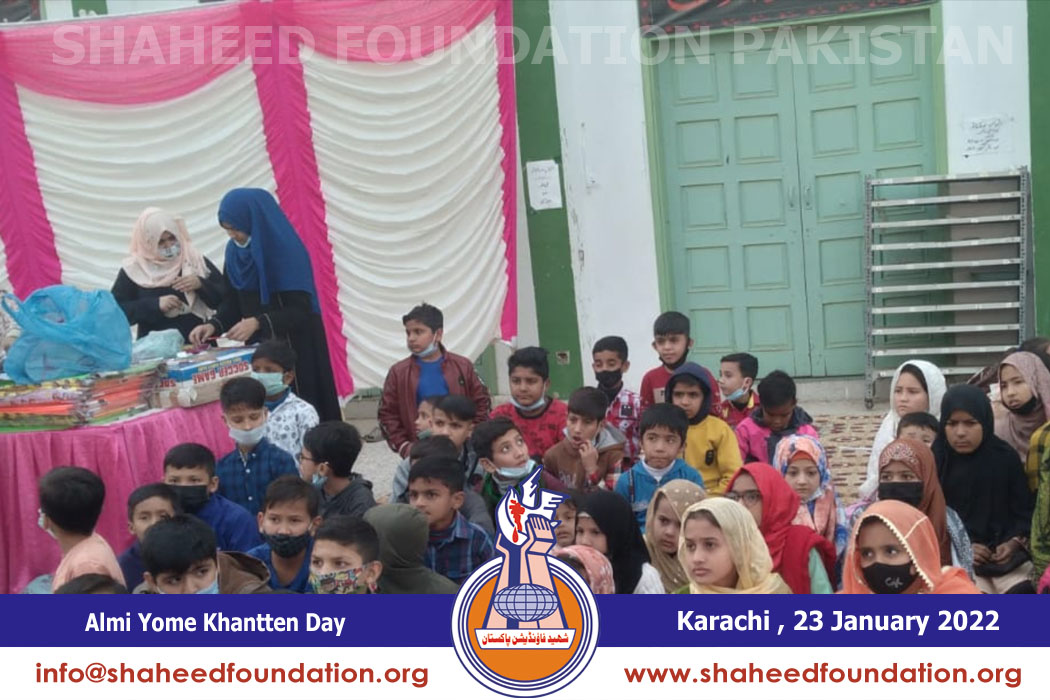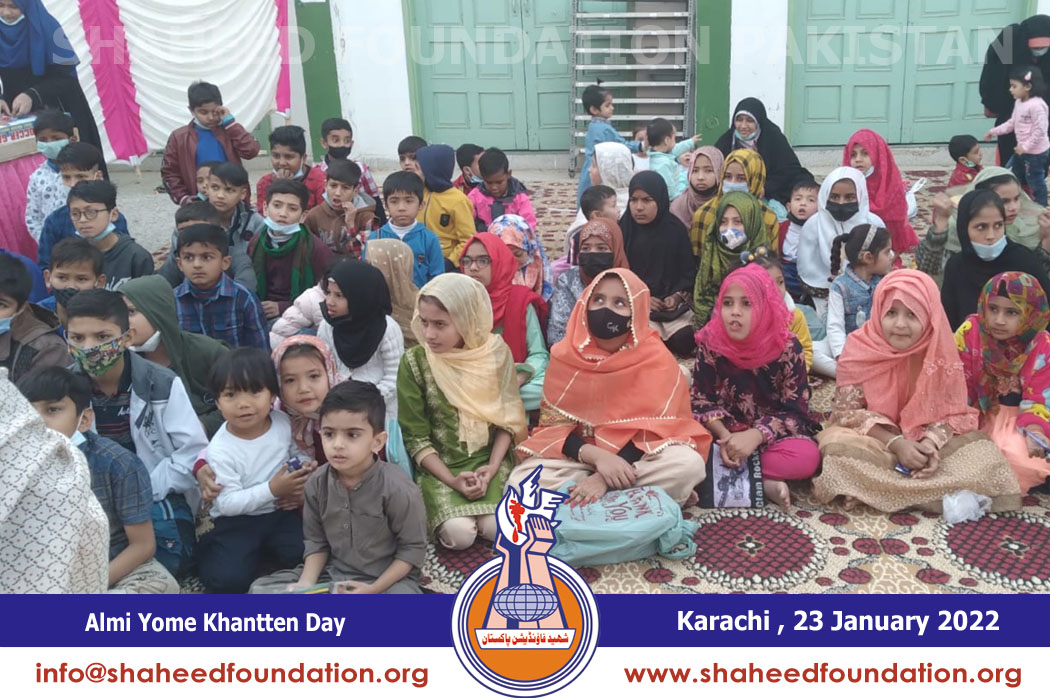 Painstakingly the stage was decorated with model depictions of the sacred House Door of Bibi Zahraa Salaamullaah, her sacred hand mill used for grinding wheat,Be'r-e-Ali[Alaihissalam],Ameer-il-Momineen Maula-e-Kayenat,Hazrat Ali's historic sword and his sacred shield,which add strong augmented the overall theme of the program.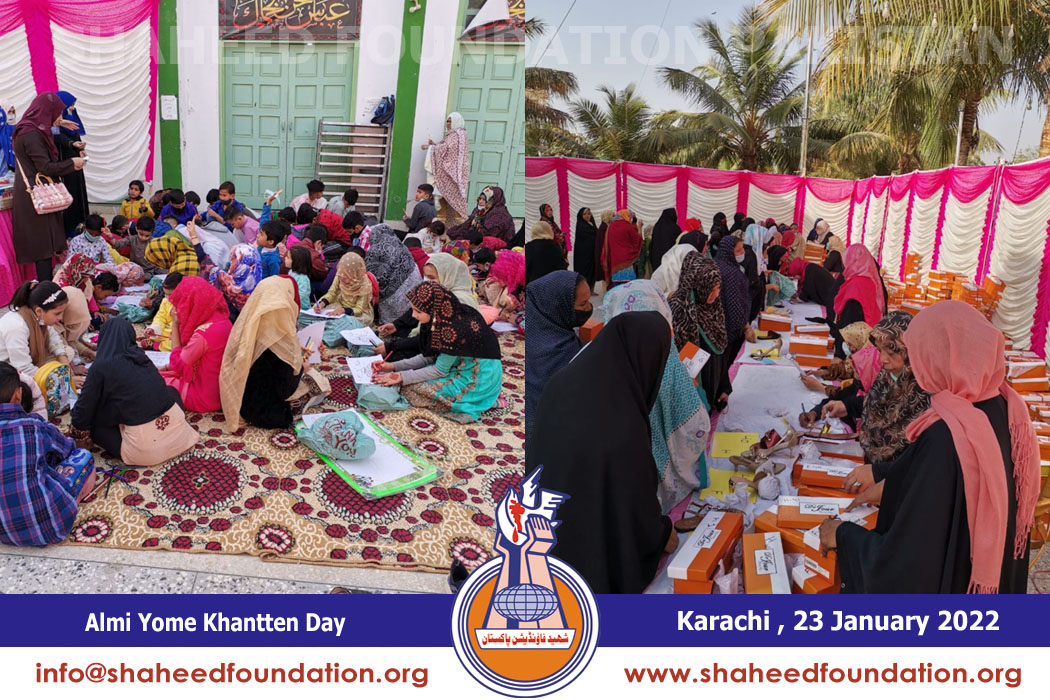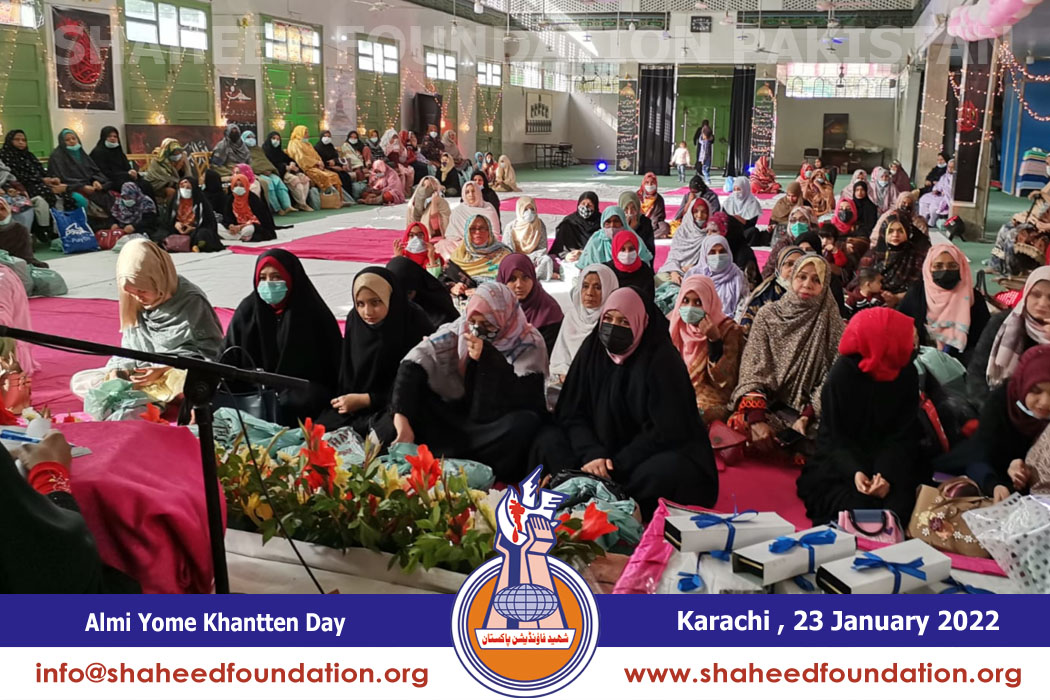 Children of martyrs were awarded gifts as token of appreciation and encouragement on behalf of Millat-e-Jaffaria Pakistan on this occasion,courtesy continued support of momineen.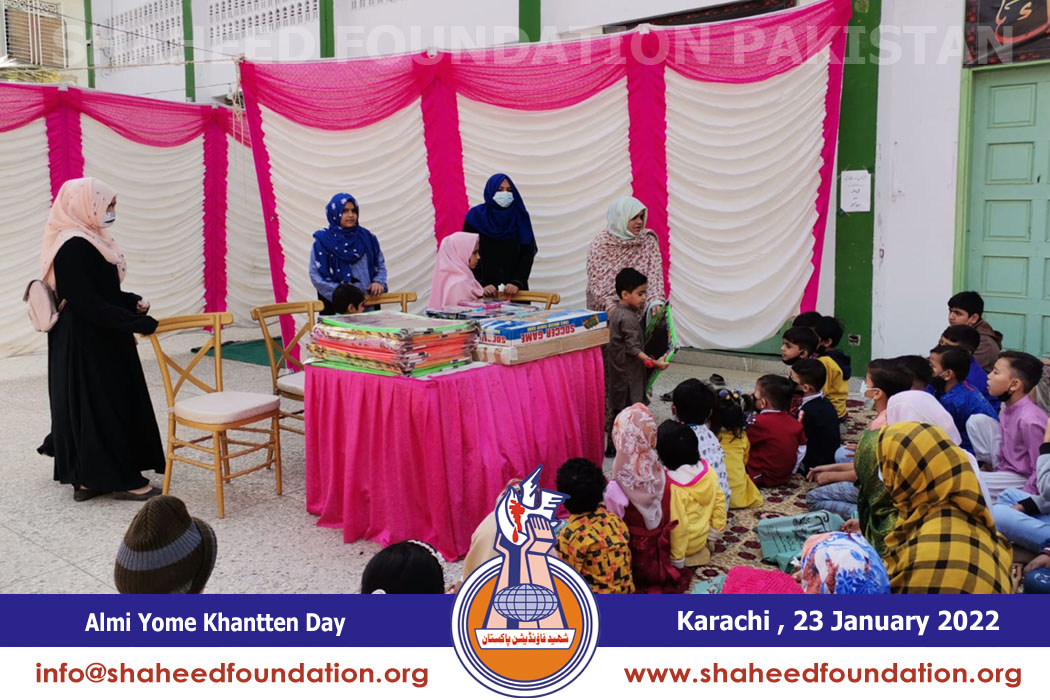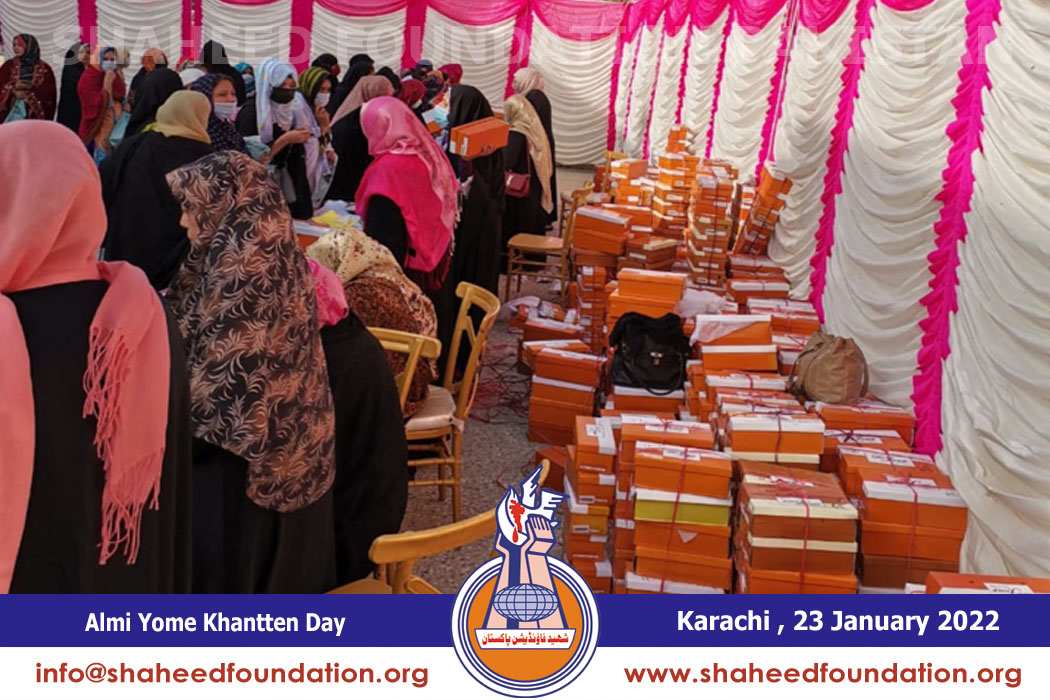 A joyous cake-cutting was also part of the program which was especially enjoyed by children.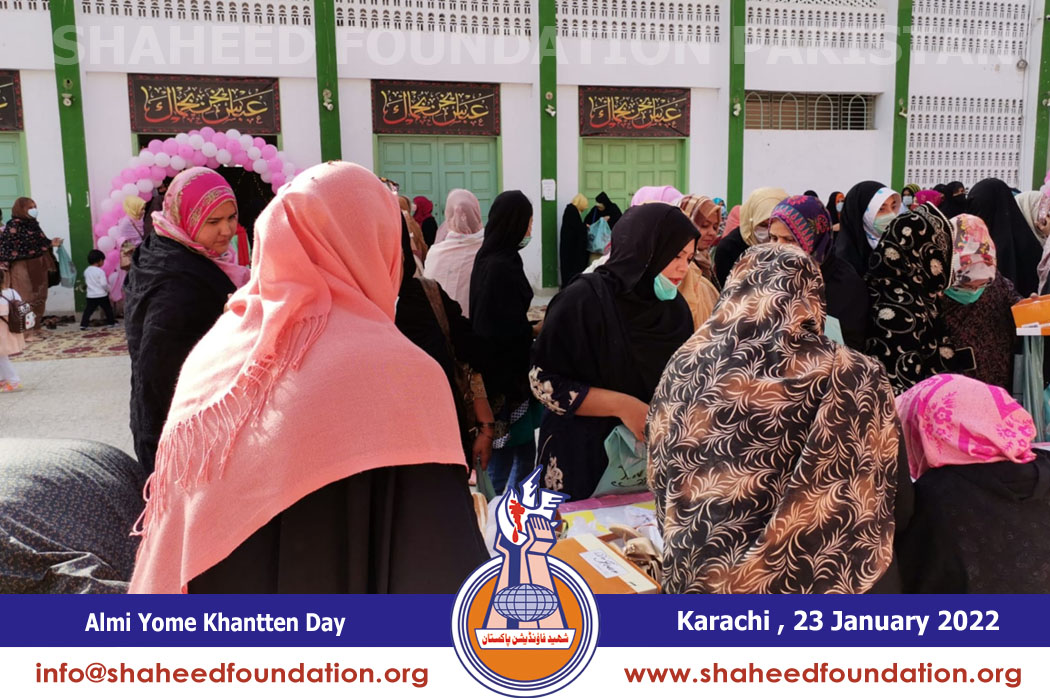 The program concluded with the recitation of Dua-e-Salaamti-e-Imam-e-Zamana[atfs].Shaheed Foundation Pakistan expresses our deepest gratitudes and heartiest thanks to all the esteemed noble families of martyrs for adorning the occasion with their sacred presence and accepting the humble effort.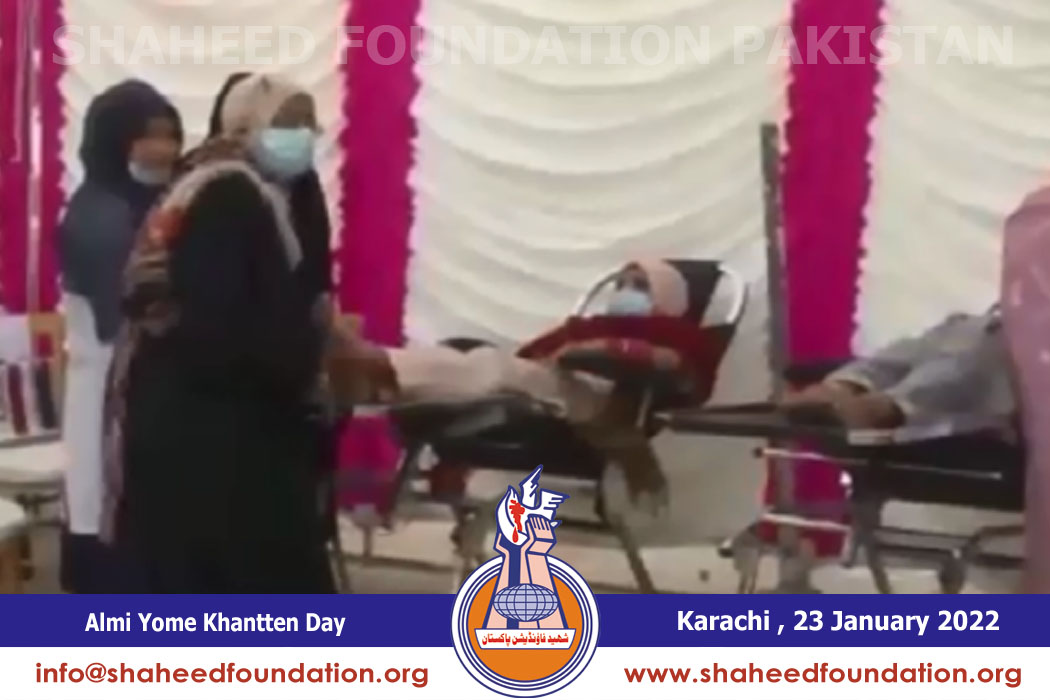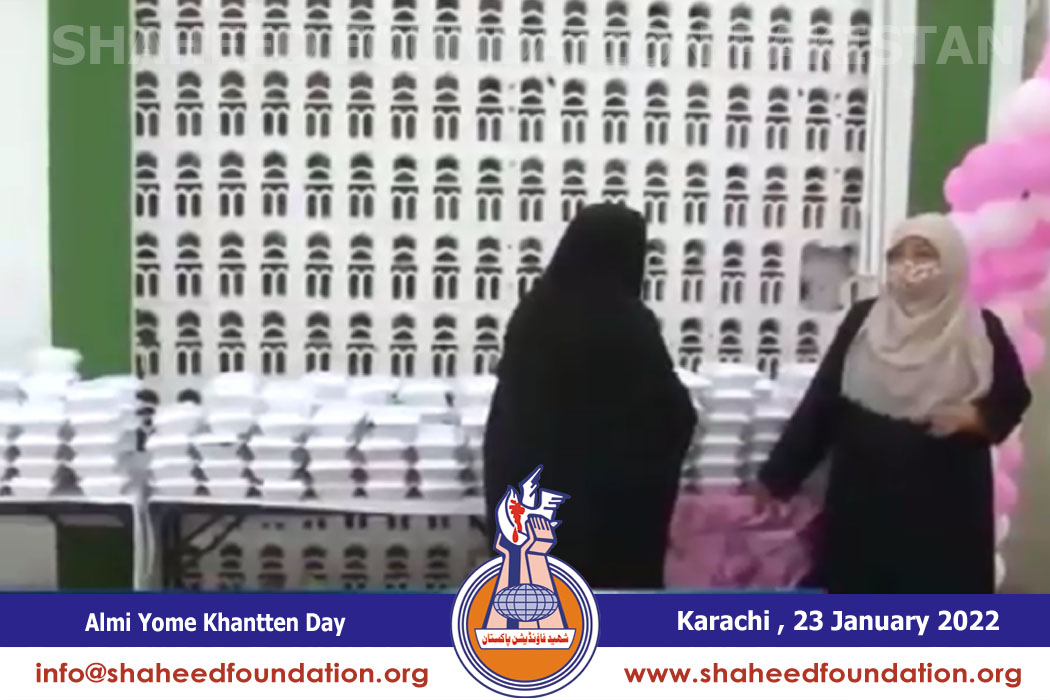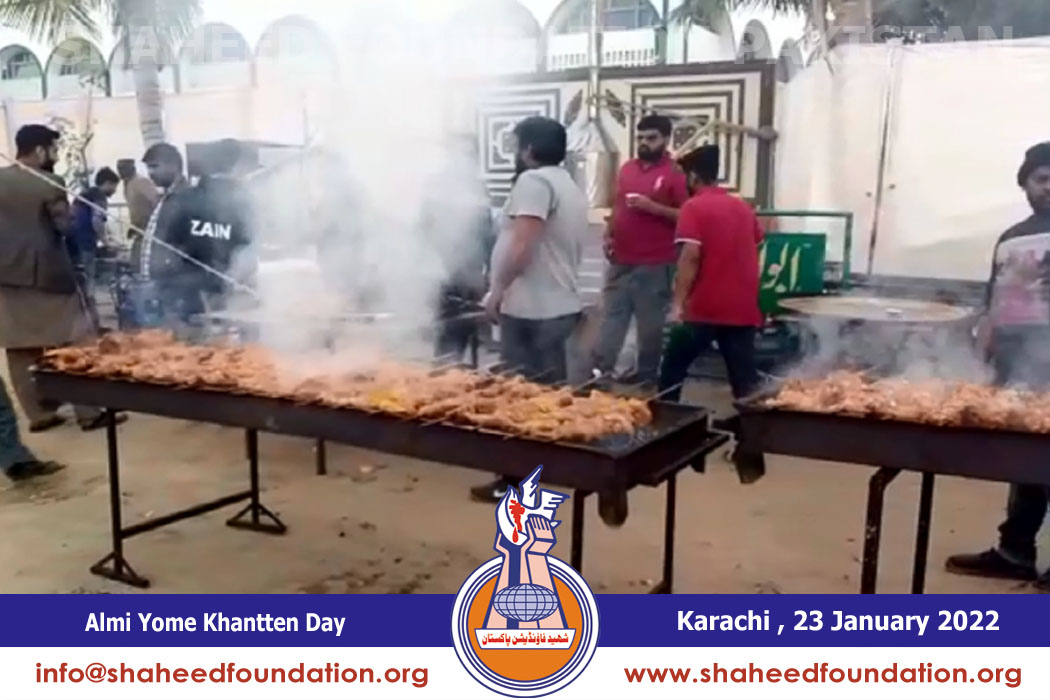 May Allah bless all the faithful and all the Khanwada-e-Shohada with all the choicest blessings and bounties of this world and the hereafter by the right of Hazrat Zahraa Salaamullaah Alaiha and solve all the difficulties for all the faithful and all the oppressed by the right of Hazrat Zahraa Salaamullaah Alaihaa. May Allah hasten the re-appearance of the awaited saviour of mankind and causes us to be among his companions in the foortsteps of beloved martyrs,every moment of our lives till we join ranks with them.