Sukkur : Annual Picnic for Khanwada-e-Shohada-e-Millat-e-Jaffaria Pakistan.
Shaheed Foundation does not only pay attention to providing financial assistance to the families of martyrs but makes concerted and multi pronged efforts for bringing the families and children of the martyrs into the mainstream of life by cautiously planning events for healthy entertainment and involving their participation which facilitates stronger social integration for the noble families of the martyrs .
Annual picnics are arranged in different parts of Pakistan for families of martyrs residing in this area according to the convenience and schedules of the children and families.
Shaheed Foundation Pakistan ,Shoba-e-Nigehdasht-e-Khanwada-e-Shohada, arranged a picnic program from the noble families of martyrs of Millat-e-Jaffaria Pakistan on Monday 17th July 2017 at Raja Water Park Sukkur.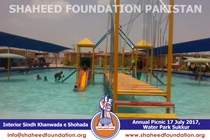 Nearly 500 persons including the families of martyrs belonging to Chalgari Bolan, Jacobabad, Shikarpur, Ranipur, Ghambat, Kandhkot, Sitharja, Sukkur, Nawabshah aur Larkana as well as the volunteers participated in the picnic program which was well organized based on extensive experience of holding such events in different parts of the country at regular intervals.
A sumptuous breakfast was served on the occassion while a transport fleet was managed for facilitating the arrival of families to the venue and safely commute them back home.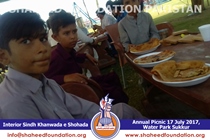 Following the Zohrain Prayers ,lunch was served and attractive stalls for the children like chill spot were also managed . Amanatdari was available for safely handling the valuables of the children while they enjoyed themselves in the picnic spot.
On this Occassion member of medical board sindh Dr. Mudassir managed , a medical camp as well ,for check up of patients from the noble families.
The families appreciated the efforts of Shaheed Foundation Pakistan .
We would like to thank all the noble families of martyrs for honouring the request of Shaheed Foundation Pakistan by making you gracious presence possible.
Shaheed Foundation Pakistan would also like to thank all the well-wishers and all the momineen whose contributions make such mega events possible which bring joy to the families of martyrs.
Finally Shaheed Foundation Pakistan Central Committee would like to thank all the volunteers who participated with the spirit to serve the families of martyrs and helped make the event a success.
May Allah bless all of you by the right of Hazrat-e-Zahra[Salamullah Alaiha.] with the choicest blessings and bounties of this world and the here-after.